NO TO THE WAR BETWEEN RUSSIA AND UKRAINE!!!
Horrific events are taking place these days in Ukraine and Russia. Some years ago, not even in my worst dreams could I imagine it: that my country would send troops to my first homeland, Ukraine , that Russian tanks would tread on the land of that country.
I reject words that don't fit in my mind: "The war with Ukraine ".
I am ashamed of the country where I live, feel sorrow in my heart and fear for the consequences of a war in Ukraine with Russia itself: deaths, wounded, displaced persons. And the hatred and resentment between peoples, the complete demoralization of the Russians.
War with whom? With the beloved motherland where I was born, where I went to school? Where do my childhood friends live? Later, how will I look them in the eyes?
I would like to ask the young people if they are ready to give their lives for the phobias of one person.
I would like to ask the mothers of these young people if they are ready to receive their coffins.
NOT I.
NOT WHAT I WANT.
Elena Vilenskaya, Saint Petersburg, 3rd March 2014
With the support of Women in Black Madrid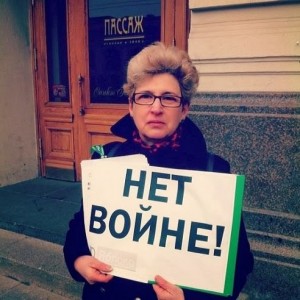 Photo: Vigil Avda Nevsky St. Petersburg
NO TO THE WAR March 02, 2014.
Must have 50m between people involved